I managed to talk the big one into wearing a sprig of wattle to school today, she even replaced it when the first sprig got lost, middle one rolled his eyes at me.
Nanna came and cared for the little one this afternoon while I went off to do Landcare with the preppies, she even brought home-made poppyseed muffins. We love Nanna! We also got to speak to Nenek (nanna who lives in Jakarta) on Skype this morning, the little one had a great time showing her all her toys and animal collection. What a well loved girl she is - she had Nanna playing games and reading books all afternoon.
Landcare was similar to last week. Two sessions - about 45 minutes each, held outdoors under a beautiful tree by the school vegie patch. We also used our wonderful ecoshed for the craft activities. So many volunteers today - which is amazingly helpful when you have lots of small kids feeling exhilarated about being outdoors on a beautiful day, they can take a bit of watching!
We started our conversation with finding out what the kids knew about bugs. Did you know that insects like moths can smell from their legs? That there are over 500 types of ladybirds in Australia? - 'species' one small boy chipped in. There is also an Asian Ladybird that threatens to wipe out our Australian species. They knew about body parts, metamorphosis and could have talked about bugs all lesson.
How benign does this nasty ladybird look?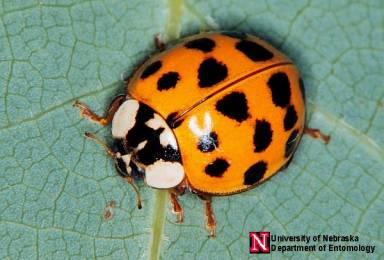 We read the Very Hungry Caterpillar, the kids joyfully finished all my sentences.
I wore my sprig of wattle with pride and was delighted that my fellow helpers were wearing their own. We talked about Wattle Day, a couple of parents knew about it but none of the kids. We talked about feeling pride in the plants we have around us and caring for nature. We pointed out the different types of wattle around us. We spoke about Spring and admired all the blossoms, we're looking forward to eating plums from the fruit trees like the Very Hungry Caterpillar.
I brought some cuttings from plants which attract butterflies and passed them around so the kids could sniff and feel them. I explained the activities for the day and we broke in to groups.
Activities today:
Plant cuttings from butterfly attracting plants

Checkout aquatic minibeasts and garden minibeasts under a magnifying glass

Create origami butterflies and hand print butterflies

Make ladybirds out of plastic lids

Draw caterpillars with chalk

Plant a butterfly attracting plant in the fairy garden

Decorate the bug hotel - give it a sign
Then we all visited the wetlands and spotted the first tadpoles of spring, the slime in the pond was irresistable and was extracted and flung with sticks with great delight. Finally the kids grabbed a sprig of wattle each to celebrate the day.
The weather was so kind to us, a butterfly flew by overhead and the day flowed by joyously - a perfect start to Spring.
I was pretty chuffed that Early Australia wanted to use some of my post on their site http://www.earlyplayaustralia.com/
and that